Post Easter we are still thinking about chocolate, although with the UK under coronavirus lockdown you may not feel as though there's a worldwide celebration and national holiday approaching. With the lockdown measures preventing all but essential travel this year there will be a noticeable absence of public gatherings paying respects to the religious significance and customs associated with Easter.
There will be no Easter Sunday get-togethers with friends and family visiting from far afield. Some shops have even been encouraged to stop stocking our favourite Easter treat, the chocolate Easter egg. This year things are very different than ever before.
So, how can we show our family and friends we are thinking of them?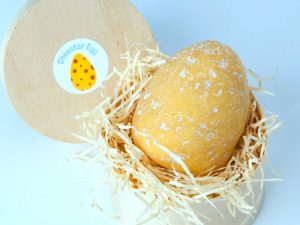 Even if we can't be together in person this year, we can still send thoughtful tokens through the post to our loved ones. These are five of my favourite alternatives to chocolate Easter eggs and I hope you find an idea or two you can use to celebrate Easter with your family and friends too.
Cheester Eggs
As the name suggests, these delicious eggs are made from solid cheese shaped like an egg and wrapped in a presentation box. Is this the perfect gift for your friend who prefers a savoury choice rather than a sweet treat?
Easter Flowers
Surely guaranteed to brighten someone's day, Easter flowers are packaged carefully and delivered by post, arriving with fresh scents and vibrant colours. At this time of year, daffodils and tulips are popular, along with the traditional Easter Lily, the symbol of hope.
Sponsoring Easter Bunnies
Sadly, there will always be animals in need of our help and Easter is a great opportunity to set up a sponsorship to protect an individual animal or endangered species. I support the Guide Dogs for the invaluable work they do for the visually impaired but there are many choices from snow leopards, to penguins, to horses, dogs, cats and of course bunny rabbits.
Easter Perfume and Pampering Gifts
For men and women, the idea of sending perfume, aftershave or a bath-time pampering set as an alternative to a chocolate Easter egg is becoming increasingly popular. Perhaps with the abundance of all year round chocolate, receiving a non-edible gift is as thoughtful as it is memorable. For great pampering ideas please contact me and I'll help you find the perfect Easter gift.
No-Added-Sugar Easter Eggs
If you can't imagine an Easter without a chocolate egg, then choosing a no-added-sugar egg is a great choice for a dairy-free, gluten-free healthier alternative. Made with ingredients such as cocoa butter, cacao mass, soya flour and xylitol, these delicious eggs have the appearance of a traditional Easter egg, without the extra calories.
If you like these ideas, please feel free to share them with your family and friends. Easter is a time to celebrate family and friendships even if we can't celebrate in person this year. It's celebrating remembering what we have given up to be where we are today and to taking the time to appreciate the things in life which truly matter.
For more Easter ideas please contact me on 07756 772950 and I'll be happy to help choose the perfect Easter treat for your friends and family whether they live with you or whether the gift needs to be posted.