Going to the hairdresser is a monthly treat for many men and women. It's the best opportunity to put aside any work commitments and home duties for a while. The feeling of being cared for and pampered while you relax in a comfy chair away from the hustle and bustle of life is something to look forward to.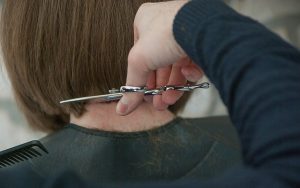 As well as catching up on the latest gossip, chatting about homelife and holidays, it's a place of real calm where time stops and you're the centre of attention for a while. Having a new haircut, restyle, colour, trim, shave or simply a wash and blow-dry, there are lots of choices.
Afterwards, when the mirror shows your new cut and colour from the front, side and back, you feel a million dollars, having split ends cut away or new layers, the small to the big changes have a huge positive effect on your mindset and wellbeing.
There's the smell of the luxury shampoo and conditioner, the prolonged head massage, the cup of tea or coffee, the whole experience is second to none.
But it isn't always possible to find time to do this every time you wash your hair and that's where the Arbonne range of True Hair products exceeds all expectations. You can choose from the replenishing mask, daily shampoo, daily conditioner and the leave-in treatment, or use a combination of all four amazing products. You have the freedom to choose when and where you wash your hair without booking an appointment. At home, at the gym, at a friend's house, there's no restriction and Arbonne's products can be used every day.
I'm an Arbonne Independent Consultant of several years and I am able to answer any questions about using these products. I can also help recommend which one would be best for you or for a friend if you're planning a surprise gift.
True Hair Replenishing Mask
At last, an intense replenishing mask to transform dull, lifeless hair with a burst of nourishing deep hydration. This mask contains boosting botanicals including pea protein, sustainably sourced baobab and ashwagandha root. You'll feel the difference in your hair health and love the shine from root to tip.
True Hair Daily Shampoo
Try this luxurious low lather gluten-free shampoo to remove build-up from your hair without stripping away essential moisturiser. You'll find your hair softer, smoother, more luminous, silky and healthy. Using Arbonne's natural ingredients your hair becomes stronger with less breakage. It's also suitable for daily use on all hair types, including colour treated.
True Hair Daily Conditioner
This lightweight, nutrient rich formula is designed to rinse clean, detangle and leave your hair manageable and silky smooth. Using sustainably sourced baobab to help replenish critical moisture and repair damage. It's gentle enough to use every day on all hair types. With a light matcha green tea scent the True Hair Daily Conditioner is the perfect partner to the True Hair Daily Shampoo.
True Hair Daily Leave-In Treatment
For the ultimate aftercare for your hair, try the True Hair Daily Leave-In Treatment. Used in conjunction with the mask, shampoo, conditioner or on its own, you can lock in healthy looking shiny hair between washes (or salon visits). Anti-frizz and Arbonne's restorative treatment help to protect your hair throughout the day.
Arbonne's 40 years of experience in the health, skincare and nutrition industry backed by solid scientific research and a dedication to cruelty-free products makes the best use of natural ingredients from sustainable sources. The products are good for you and good for the environment too.
To find out more, please give me a call on 07756 772950. I can arrange for your Arbonne order to arrive at a home or work address, or to be posted to a destination of your choice. I am proud to be an ambassador for Arbonne and can answer any questions you may have.