Accountability Assemblage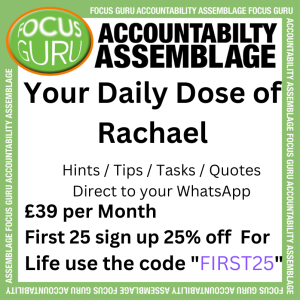 This is your daily dose of Rachael, Focus Guru – direct into your WhatsApp Group Chat. A daily task to get you, your business and your life more accountable to get the most from your days and give you back the time you want for your hobbies, your loved ones and get back that work life balance.
As well as your daily inspiration or task you will also get a discounted membership rate for 121s with Rachael.
You also have all the other members offering your support, guidance and advice on accomplishing the tasks you want to achieve.